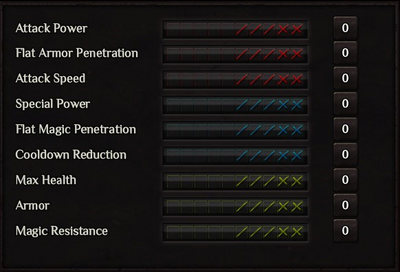 Overview:
Edit
One of the most unique features of Sins of a Dark Age (Soada) is the ability to allocate stat points based on your current account level. To get to the Edit Hero Stat Allocation screen, click on Profile while in-game, then click Heroes, choose a hero you wish to modify, and then click Edit Hero. From here, you can apply stats however you wish. Want more Health or Armor? What about Attack Power? Build the Hero you want to build in Soada!
Note: The current max account level in Soada is 30, therefore in theory, you can put 10 points in three separate stats.
Note: These stats are subject to change in the future.
1 point = 1.33 Attack Power
2 points = 2.66 Attack Power
3 points = 3.99 Attack Power
4 points = 5.32 Attack Power
5 points = 6.65 Attack Power
6 points = 7.78 Attack Power
7 points = 8.91 Attack Power
8 points = 10.04 Attack Power
9 points = 10.90 Attack Power
10 points = 11.76 Attack Power
1 point = 1.90 Flat Armor Penetration
2 points = 3.80 Flat Armor Penetration
3 points = 5.70 Flat Armor Penetration
4 points = 7.60 Flat Armor Penetration
5 points = 9.50 Flat Armor Penetration
6 points = 11.12 Flat Armor Penetration
7 points = 12.74 Flat Armor Penetration
8 points = 14.36 Flat Armor Penetration
9 points = 15.60 Flat Armor Penetration
10 points = 16.84 Flat Armor Penetration
1 point = 0.01 (+ 2.4%) Attack Speed
2 points = 0.03 (+ 4.8%) Attack Speed
3 points = 0.05 (+ 7.2%) Attack Speed
4 points = 0.06 (+ 9.6%) Attack Speed
5 points = 0.07 (+ 12.0%) Attack Speed
6 points = 0.09 (+ 14.0%) Attack Speed
7 points = 0.10 (+ 16.1%) Attack Speed
8 points = 0.11 (+ 18.1%) Attack Speed
9 points = 0.12 (+ 19.7%) Attack Speed
10 points = 0.12 (+ 21.2%) Attack Speed
1 point = 2.30 Special Power
2 points = 4.60 Special Power
3 points = 6.90 Special Power
4 points = 9.20 Special Power
5 points = 11.50 Special Power
6 points = 13.46 Special Power
7 points = 15.42 Special Power
8 points = 17.38 Special Power
9 points = 18.88 Special Power
10 points = 20.38 Special Power
1 point = 1.33 Flat Magic Penetration
2 points = 2.66 Flat Magic Penetration
3 points = 3.99 Flat Magic Penetration
4 points = 5.32 Flat Magic Penetration
5 points = 6.65 Flat Magic Penetration
6 points = 7.78 Flat Magic Penetration
7 points = 8.91 Flat Magic Penetration
8 points = 10.04 Flat Magic Penetration
9 points = 10.90 Flat Magic Penetration
10 points = 11.76 Flat Magic Penetration
1 point = 1.2% Cooldown Reduction
2 points = 2.4% Cooldown Reduction
3 points = 3.6% Cooldown Reduction
4 points = 4.8% Cooldown Reduction
5 points = 6.0% Cooldown Reduction
6 points = 6.8% Cooldown Reduction
7 points = 7.7% Cooldown Reduction
8 points = 8.5% Cooldown Reduction
9 points = 9.1% Cooldown Reduction
10 points = 9.7% Cooldown Reduction
1 point = 16.5 Health
2 points = 33.0 Health
3 points = 49.5 Health
4 points = 66.0 Health
5 points = 82.5 Health
6 points = 96.5 Health
7 points = 110.6 Health
8 points = 124.6 Health
9 points = 135.3 Health
10 points = 146.1 Health
1 point = 1.60 Armor
2 points = 3.20 Armor
3 points = 4.80 Armor
4 points = 6.40 Armor
5 points = 8.00 Armor
6 points = 9.36 Armor
7 points = 10.72 Armor
8 points = 12.08 Armor
9 points = 13.12 Armor
10 points = 14.16 Armor
1 point = 1.45 Magic Resistance
2 points = 2.90 Magic Resistance
3 points = 4.35 Magic Resistance
4 points = 5.80 Magic Resistance
5 points = 7.25 Magic Resistance
6 points = 8.48 Magic Resistance
7 points = 9.71 Magic Resistance
8 points = 10.94 Magic Resistance
9 points = 11.88 Magic Resistance
10 points = 12.82 Magic Resistance